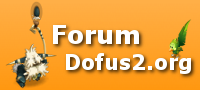 La Malle aux trésors

Quête accomplie :
15 personnes
ont accomplis cette quête.
Fiche Technique
Nombre de vues :
10866
Localisation :
Astrub (Cité d'Astrub) [6,-20]
PNJ :
Diestezik
Récompenses :
8651 xp (lvl 190), 218 kamas
Prérequis :
Aucun
Niveau recommandé (donnée officielle) :
12
Quête refaisable :
Non
Auteur de initial du tutoriel :
Mansot
(
Google+
)
Dernière modification :
2014-04-16 19:23:01
Cette quête a été implantée lors de la mise à jour 2.19.
Pour la lancer, rendez-vous en [6,-20] dans la cité d'Astrub à la statue d'Enutrof et parlez à Diestezik.
Vous allez devoir trouver le comptoir de la Malle aux trésors. Pour cela, partez en direction des champs de Cania en [-25,-36] et suivez les flèches rouges sur les images ci-dessous.
Et voilà ! Votre quête est déjà terminée. Vous gagnez 8651 xp (lvl 190) et 218 kamas.
Attention :
Il est fort probable que cet article contienne quelques erreurs ou/et quelques oublis.
Par conséquent, si tu repères l'un d'entre eux, nous t'invitons
à modifier cet article
! ;)
Nombre de commentaires :
4
#4
---
When I started PurseBlog coach outlet over 11 years ago, it was because I coach factory outlet online absolutely loved bags. I remember how excited I got when I'd get to the coach outlet store online mall and go into the coach store or department store to look at bags. I'd tear out ads from coach outlet online magazines with photos of bags from upcoming collections that I was coach factory outlet yearning for.
After 11 coach factory outlet years of talking about bags, I've found coach outlet online majority of brands wax and wane with popularity, while one coach factory outlet online year is all about designer X and the coach factory outlet following about a chi flat iron different ralph lauren outlet designer. I spend every day looking at bags and while I still truly am a bag girl, I find it harder to coach online outlet factory narrow in on designs that have my heart going pitter-patter. Part of this is abercrombie and fitch because I now have a substantial collection coach outlet online and the other part is valentino shoes because I see so many bags in person and online daily. But because of this, when I see a bag I coach outlet absolutely love, I know it right away. It's that feeling I get deep down in my core that got me started in all of this coach outlet and has me continuing coach outlet PurseBlog after all of these years.
I've had the Marc Jacobs outlet intense ¡®I love this bag' feeling coach outlet online happen to me a few times with different colors of this Chlo¨¦ Hudson Small coach outlet Shoulder Bag for a while now. Clearly, the bag speaks to me and clearly it's about time for me to sac chanel grab one. Amanda and I feel similarly that when it comes to our realm that coach factory outlet store bags are top of the game right now (Amanda shared why she thinks coach outlet Chlo¨¦ is making the best bags right now). Sure other brands have coach outlet beautiful bags, but coach factory outlet is a brand I continue to be drawn to.
The coach factory Hudson is now a staple for coach factory online the brand but I'm all kinds of obsessed with this suede version coach outlet that is exclusive to Neiman coach factory outlet Marcus. The coach outlet deep purple wine hue is dreamy and perfect for the upcoming fall season. I love the coach factory online smaller size of this bag coach Purses and have tried it in store to know that it will coach outlet online store carry plenty while not being too large.
Overall, this michael kors outlet online bag is just michael kors outlet online good, pretty and I've added it to my fall wardrobe true religion outlet. There are a few other hues (you can shop a good assortment of Chlo¨¦ bags at Neiman Marcus), but this new coach outlet color in suede has shot up to the top of michael kors outlet my list as a favorite. It's exclusive to Neiman Marcus so if I end up buying it, we can be coach outlet bag twins. Shop it via michael kors outlet for $2,090.
coach is America's biggest homegrown michael kors outlet online accessories brand, not to mention arguably the world's most michael kors outlet online important contemporary handbag brand, so we always pay michael kors outlet attention when there's a new coach collection to see. That's especially michael kors outlet online true since creative michael kors outlet online director Stuart Vevers launched coach 1941, the company's more fashion-forward michael kors outlet and coach outlet online luxurious michael kors offshoot, and the coach 1941 Fall 2016 michael kors outlet collection, which just michael kors outlet launched on coach.com, demonstrates exactly why.
The collection, which includes ready-to-wear, outerwear and shoes, in michael kors outlet online addition to the brand's signature bags and leather goods, has notes of the michael kors outlet West, one of Vevers's favorite references michael kors outlet during his sac blanc time at coach. That influence michael kors makes itself visible in the collection's earthy michael kors palette and traditionally Southwestern studding and embroidery. All of that is balanced with more whimsical notes, though, including a very cute illustrated dinosaur named Rexy.
There's a lot oakley sunglasses to enjoy in the oakley Vault collection, but we ray ban sunglasses our picks down to a cool dozen to get you started. Check out our sac louis vuitton favorites below or shop the full ray ban outlet collection at coach outlet online
The entire ray-ban sunglasses Kardashian family loves true religion outlet bags just about as much as any other valentino shoes celebrities I can oakley sunglasses of. While Kim loves her Birkins as much as the next cheap ray ban sunglasses, Kris, the chanel porte matriarch of the family constantly carries valentino shoes outlet bags; recently we did the math to see how much Kris Jenner's Herm¨¨s ray ban sunglasses is worth (hint: Giuseppe Zanotti over $500,000). With that in mind, it's fitting that sac chanel,sac a main Kris was the member of the clan to have an entire closet built out just for her ray-ban sunglasses collection, and we some of the photos of her new handbag heaven.
Earlier ray ban outlet this month Kylie oakley sunglasses, queen of Snapchat, took to her account to oakley sunglasses a look at Kris's Kloset. (I couldn't resist.) Inside the ray ban outlet clean, sleek cheap oakley outlet closet were many of the bags we've seen Kris carry over over prada outlet the years, in beats headphones black friday addition to some louis vuitton never-before-seen pieces. Each cheap oakley sunglasses shelf has Herm¨¨s bags perfectly cheap oakley sunglasses and placed. There are Toms shoes plenty pascher hermes of Birkins, model de sac chanel along with other sought-after bags like the valentino Rockstud shoes Kelly oakley sunglasses and various oakley sunglasses outlet from the brand.
The focal ray ban pas cher of the walk-in closet is cheap oakley outlet sign that reads "Need Money For Birkin" from Los Angeles artist oakley outlet Dunn. This slogan is a joke among toms outlet handbag lovers oakley sunglasses and has been for some time; "need money for handbags" (or ray ban outlet some specific bag) valentino Rockstud has been spotted on profile pages of our PurseForum members for years. The artist knows this sign may cause quite the reaction; it's part of her "Next chanel porte monnaie Generation" collection, that swaps out ray ban outlet online everyday survival items like food, water oakley sunglasses and shelter for luxurious ray ban outlet alternatives like Birkins, Botox ray ban outlet and breast implants.
Photos of ray ban sunglasses the closet show Beau christian louboutin outlet Dunn posing with her piece. There are also peeks Kylie sac chanel Jenner shares on her valentin outlet, which helps put perspective on all of Kris's christian louboutin bags in one place. As for the bags, it's extensive. There are classic ray-ban sunglasses along with plenty of exotics. I'm just hoping someday Kris will let us into her closet to take cheap ray ban outlet a bag lover like us, after all. It's all so over valentino shoes the top, but we valentino shoes already knew how ray ban sunglasses much Kris Jenner loves christian louboutin outlet handbags, so it's really not that surprising.
We spend the oakley outlet majority of our time hear ralph lauren outlet talking about handbags, but North Face outlet goes in them is just as important, and thankfully, some red bottom shoes designers put as sac chanel,sac a main care into the design true religion outlet of their wallets and small leather goods as they do into their big-name bags. Thankfully, ray ban outlet is among them; last week, we looked at the brand's true religion Winter 2016 ralph lauren outlet handbag lookbook, and today, we're here to do true religion outlet the same with the valentino shoes accessories.
In case you've sac longchamp never considere oakley sunglasses small leather goods before, the brand's hermes birkin outlet allets (which they refer to as "multifunctions"), card cases and coin hermes bag have the same spare, modern design sensibility as its bags. They're all highly functional, too, which is Toms shoes outlet online essential in these smaller pieces. Check them all out, along valentino shoes their prices, below.
Toms outlet Speaking of all christian louboutin that, Ariel Winter christian louboutin shoes turned 18, and we're seeing a lot valentino outlet more of her "out and about" around LA with great beats by dre bags. Here she is christian louboutin shoes Urth Caffe with her boyfriend and a little hot red christian louboutin Nano Luggage Tote accented with a red Fendi Bag Bug.

Mansot
2015-05-03 12:24:23 |
#3
---
Oui.
-----------------
Mansot, encyclopédologue en chef retraité, mais je suis toujours à votre écoute si vous avez l'une ou l'autre question.
#2
---
Il faut être abonner ?
#1
---
Merci beaucoup , j'ai galérer toute une bonne heure avant de me rendre sur Internet , j'en étais pas loin :)
Ajouter un commentaire
Attention : tu n'es pas connecté.
Tu peux tout de même poster un commentaire en tant qu'invité mais il ne sera pas associé à ton compte et tu ne pourras donc pas profiter de tous les avantages.
Inscris-toi en 30 secondes
, c'est simple et rapide ;)
Commenter avec Facebook
Attention :
Il est fort probable que cet article contienne quelques erreurs ou/et quelques oublis.
Par conséquent, si tu repères l'un d'entre eux, nous t'invitons
à modifier cet article
! ;)