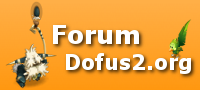 Platypus
Platypus
Niveau 1
Obtention
Nourriture
Offert en complétant le succès « Platypus » du jeu Islands of Wakfu, consistant à trouver 10 Nids de Platypus.
1 Dommages (10 Dommages maximum)


Rougely, Bleugely, Vertgely





Hormone :

1 Dommages


Drop de l'hormone :

S'obtient en complétant le succès « Coff-Coff » d'Islands of Wakfu, demandant d'éliminer 30 ennemis avec du gel explosif.
Intervalle entre 2 repas
5h à 72h
Points de vie de base
10 PDV
Zones de prédilection
Sufokia et les alentours
Bonus de prédilection
70%
Dans la panoplie : Panoplatypus
Aussi vieux et coquet qu'une Enutrof, et aussi affectueux que la Déesse Eliatrope, ce Platypus brille de jour comme de nuit. Les contes pour enfants lui donnent pour origine Sufokia et l'élèvent au rang de vestige d'une ancienne civilisation, mais la véracité de ces affirmations n'a jamais été vérifiée. Ce familier très gourmand se nourrit de tout type de gely.
Nombre de commentaires :
16
Ajouter un commentaire
Commenter avec Facebook