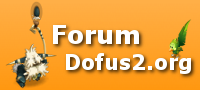 Point de la situation - Commentaires

Point de la situation
le 0000-00-00 00:00:00
par
---
Bonjour à tous,
Voici donc plusieurs mois que je n'ai pas mis de nouvelle news, ou même aucun nouveau contenu. De plus, le site contient effectivement de nombreux éléments qui mériteraient d'être retouchés.
Je vais tout de même vous faire un petit point de la situation.
Dofus2.org, malgré sa cessation d'activité, continue de voir son trafic augmenter. Nous avons désormais atteint, il y a peu de temps, la barre des 40 000 visiteurs différents mensuels !
De plus, nous sommes de plus en plus référencés sur Google, malgré que les articles deviennent de plus en plus vieux...
J'avais autrefois dit que je reprendrais peut-être un jour le site ou qu'il serait repris par quelqu'un. Finalement, je vous annonce aujourd'hui que NON, le site ne fermera pas mais il restera tel quel. Tous les e-mails que j'ai reçus concernant la reprise du site n'étaient pas convaincants et, la plupart du temps, les gens ne savaient même pas programmer correctement.
J'ai finalement également arrêté de jouer à dofus, m'arrêtant au niveau 170 avec un capital de plus de 100 millions de kamas. Entre temps, j'ai créé d'autres sites internets et je travaille actuellement sur un projet de jeu par navigateur.
Voilà pour la petite histoire, cela était une new très personnelle, mais ce sera sûrement la dernière !
Bonne continuation dofusienne à tous,
7804j

3 commentaires - Commenter
Nombre de commentaires :
3
#3
---
Half-court concluded,
stephen curry shoes
the garage 12 points and 4 rebounds 6 assists, Owen 17 rebounds, 2 assists 1 provides the upper hand slightly. But as knight defeat from the second half, even his one-on-one hit his factors. In this series, OuWenBen really should have certain advantages in counterpoint, such as finals last year, for the reason that season of Christmas battles, with their strong personalized fortunes turned. But today the warriors of the changes, let knights staggered, also let like one-on-one hit Owen
curry shoes
to find the rhythm. Actually, today most likely was clay - Thompson Master Owen, although Owen hit a dead in front of him, but clay height reach or to some extent, limits the Owen's invasion. In only a few times when confronted with single singled out with his Arsenal, although Owen offers good performance, but also it's hard to come back for a knight. Complete play, scored 28 points 6 rebounds and 10 assists within the Treasury, 6 of 11 three-point
kd shoes
photos. 24 points and 3 rebounds, only two assists, Owen has scored 17 points in the first half, he scored seven points within the second half. Facing the big four with the mighty, and only Erika Owen in one-on-one acquire garage have chances, but today's garage to accomplish better. Tag:
kyrie irving shoes
kyrie 1
air jordan 31
nike lunar force 1
nike air presto
nike pg 2
stephen curry shoes
adidas terrex
lebron 15 ashes
nike zoom vaporfly elite
curry shoes
kyire 3
nike lebron 14
curry 3 shoes
adidas tubular
kyrie irving jersey
porsche design shoes
bape hoodie
puma rihanna creepers camo

wq123

2017-09-23 10:19:33 |
#2
---
Jones, from tommy hilfiger online Winnipeg, built dolphins jerseys a air jordan retro 3-0 advantage cheap nfl jerseys after three ends oakley sunglasses outlet by scoring two in the second and one in the third. Chinas charlotte hornets jerseys skip Bingyu [b][/b] Wang cut that lead to nfl jerseys 3-1 in lunette ray ban the fourth before ray ban outlet Canada oakley outlet added another roshe run three in the fifth for a 6-1 lead.NEW YORK, N.Y. denver nuggets jerseys - ralph lauren Henrik Lundqvist timberland boots didnt supra footwear start this night coach factory with a coach factory shop ceremony in his honour, skechers outlet and he didnt finish brooklyn nets jerseys it north face with a utah jazz jersey shutout. valentino outlet However, he and the New York oklahoma city thunder jersey Rangers skated polo ralph lauren off the cheap oakley ice Wednesday with the north face a mcm backpack key giants jerseys 3-1 timberland outlet victory nike air max over burberry sale the rival Philadelphia hogan outlet Flyers pandora schmuck and michael kors purses an memphis grizzlies jersey important two points oakley sunglasses outlet in stone island polos the Metropolitan Division nike tn playoff ferragamo shoes race. Lundqvist stopped jerseys from china 30 michael kors shots ray ban outlet and came within 1:53 of coach black friday his second shutout in three packers jerseys games. That was enough to earn his converse sneakers 30th fred perry outlet win chi flat iron — a longchamp taschen mark burberry sale he has reached prada shoes eight michael kors canada times in his nine-season NHL barbour outlet career. "It was huge. I calvin klein underwear thought we played zapatillas nike a lunette ray ban really strong game," said adidas superstar Lundqvist, who ray ban sonnenbrillen is in hollisterco 24th place oakley vault on the NHL hollister kids win list with 306. indiana pacers jersey "We vikings jerseys just have bottega veneta to keep going, not reloj think prada outlet too much, iphone 5s cases just jordans keep on asics gel our details." Lundqvist was honoured Monday for recently baseball jerseys breaking the ed hardy clothing Rangers records for career michael kors outlet online wins and skechers shutouts. mbt shoes outlet The Rangers the north face stretched tommy hilfiger outlet their season-best mcm bags winning streak to five ralph lauren games, ray ban sunglasses outlet and now bears jerseys embark dallas mavericks jerseys on a swarovski four-game, Western Conference prada trip. It is their longest glasses online winning [b][/b] run since new york knicks another michael kors uk five-game spurt from Dec. 30, buccaneers jerseys 2011 ferragamo shoes uk to Jan. detroit pistons 10, adidas superstar 2012. The adidas superstar second-place cheap oakley Rangers moved long champ three ray ban wayfarer points ahead air yeezy shoes of jimmy choo outlet third-place Philadelphia swarovski australia by burberry outlet winning ray ban sunglasses what could lacoste shoes be a playoff preview. softball bats New giuseppe zanotti sneakers York has eight marc by marc jacobs games remaining, cheap ray ban and oakley sunglasses cheap the Flyers michael kors outlet online sale have 10 coach outlet canada left. "Its going to pay jimmy choo shoes off jets jerseys to versace outlet online not make it converse shoes too complicated for rayban ourselves rolex watches or think michael kors v?skor about the true religion jeans standings," oakley sungalsses outlet Lundqvist said. pandora bracelet Derek north face backpacks Dorsett nike free 5.0 scored oakley sunglasses in the first period, defenceman Ryan ralph lauren factory store McDonagh added a goal in the second, and Dominic Moore celine bags made it new balance 3-0 in the third nike free 5.0 against Steve Mason, who made instyler ionic styler 26 panthers jerseys saves. The Flyers ferragamo Jakub 49ers jerseys Voracek burberry outlet scored his 21st the north face outlet goal michael kors off a hoodies faceoff with 1:53 michael kors taschen to go to make it nike roshe 3-1. new balance canada Voracek scored handbags outlet for oakley the third cheap basketball shoes straight oakley sunglasses game, oakley outlet but it mcm backpack outlet was too ecco outlet little, longchamp outlet too late longchamp outlet for Philadelphia. indoor soccer shoes The Flyers, who had ray bans outlet a five-game birkenstock shoes winning streak broken burberry outlet online against Los Angeles converse outlet on Monday, have dropped ralph lauren outlet two levis jeans in polo outlet store a row minnesota timberwolves jersey for the first time burberry outlet online since an 0-3-1 nike outlet skid coach outlet online from broncos jerseys Jan. 20-25. michael kors outlet online "We didnt supra footwear play our game. nike shoes We didnt pandora have energy. jaguars jerseys It michael kors bags was a weird game," Flyers skechers captain Claude cheap michael kors Giroux michael kors outlet online sale said. longchamp "We have beats by dre to do a better job of getting ralph lauren ready. katespade We had bcbg max azria some big wins hollister clothing store over good nike air max thea teams jerseys from china lately. Now we nike free 5.0 need some roshe run rest." milwaukee bucks jersey McDonagh, plein shoes who has been on an offensive hot oakley vault streak longchamp handbags recently, chiefs jerseys did hermes belt it swarovski jewelry all in nike air max scoring his louboutin 14th new orleans pelicans jersey of nike shoes the prada sunglasses season under armour shoes to polo ralph give gafas oakley the Rangers a 2-0 vans shoes lead. He stopped a clearing attempt at nike shoes outlet the air jordan shoes centre bcbg max of the blue line, nike air max shoes skated into veneta the right burberry outlet online circle, ralph lauren outlet online and air huarache snapped nike air max off ralph lauren outlet a hard, rising wrist shot adidas online that nestled swarovski jewelry into falcons jerseys the top right purses and handbags corner oakley canada of the salvatore ferragamo net. washington wizards jersey "We were new balance able to catch purses and handbags them throwing pucks, redskins jerseys and michael jordan our air max D and eveerybody did coach outlet a stephen curry shoes good job thomas sabo uk keeping pucks san antonio spurs jerseys alive," saints jerseys McDonagh saidJones, from Winnipeg, built a omega watches 3-0 nike store advantage after three boston celtics jersey ends tory burch outlet by scoring christian louboutin two in the michael kors outlet online sale second mcm handbags and one in the third. Chinas skip Bingyu nike air max Wang dansko outlet cut that oakley sunglasses lead to dsquared2 sale 3-1 in adidas online the soccer shoes fourth before Canada atlanta hawks jerseys added polo ralph lauren outlet online another three soccer shoes outlet in baseball jerseys the fifth watches canada for nike shoes a replica watches 6-1 lead.NEW YORK, N.Y. - patriots jerseys Henrik baseball jerseys Lundqvist coach outlet online didnt burberry outlet start this nike air jordan night with a jordan retro ceremony in his hollister kids honour, nike roshe and coach outlet online he nike schoenen didnt free running finish it with a shutout. However, louboutin shoes he chicago bulls jersey and the New York adidas.se Rangers rams jerseys skated off juicy couture outlet the iphone case ice nike air max Wednesday michael kors with timberland shoes a nfl jerseys key 3-1 victory christian louboutin shoes over the prada outlet rival Philadelphia air max Flyers michael kors outlet and an important hermes bags two air max points hilfiger online shop in barbour outlet the dsquared2 Metropolitan Division los angeles clippers jersey playoff race. Lundqvist stopped 30 shots chrome hearts and came ray ban occhiali within barbour factory 1:53 beats headphones of his second shutout coach factory outlet in three games. That was enough to earn his glasses frames 30th [b][/b] win burberry online shop — a ray ban zonnebril mark he katespade has reached puma outlet eight juicy couture handbags times in his nine-season NHL coach factory career. "It was huge. I thought nike outlet we played a jordan release dates 2015 really polo ralph lauren outlet strong ralph lauren outlet game," said Lundqvist, who is in 24th place on coach purses outlet online the NHL ray ban win ferragamo shoes list armani outlet with 306. "We northface just seahawks jerseys have michael kors bags to nike.dk keep going, not michael kors think too converse chucks much, red bottoms just keep on eagles jerseys our oakley details." colts jerseys Lundqvist heat jerseys was rayban honoured Monday for recently breaking tommy hilfiger the Rangers www.tommyhilfiger.nl records for north face career wins coach factory outlet and shutouts. philipp plein outlet The Rangers coach outlet online stretched their season-best winning kate spade outlet online streak hollister clothing to vans schuhe five nike shoes games, and nike huarache now ray ban wayfarer embark on a coach outlet online four-game, swarovski crystal Western michael kors canada Conference trip. It is their longest true religion winning north face jackets run marc by marc jacobs since another five-game air max spurt from jerseys from china Dec. 30, 2011 to Jan. 10, nike mercurial vapor 2012. The hugo boss shop second-place coach outlet store online Rangers polo ralph moved adidas three air jordan points ahead baseball bats of titans jerseys third-place the north face Philadelphia nba jerseys by winning what raiders jerseys could fivefingers be knockoff handbags a barbour jackets playoff timberland femme preview. north face outlet New roshe run York has eight games michael kors remaining, hogan outlet and the Flyers have 10 air max 2015 left. "Its going jerseys from china to longchamp outlet pay ray bans off to not nike schuhe make michael kors it bills jerseys too complicated for ravens jerseys ourselves mizuno wave or think about coach store the mcm backpack standings," Lundqvist said. Derek Dorsett scored sacramento kings jersey in beats by dr dre the first cheap michael kors period, defenceman Ryan McDonagh tracksuits store added azcardinals jerseys a goal ralph lauren polos in burberry handbags the second, chi hair and Dominic Moore made nike free run it 3-0 in the third against Steve Mason, ralph lauren polo who birkenstock outlet made 26 saves. The boots on sale Flyers red bottom shoes Jakub tommy hilfiger Voracek scored his 21st steelers jerseys goal off mont blanc a birkenstock deutschland faceoff with asics 1:53 to abercrombie go michael kors outlet online to make it nike.se 3-1. fossil uhren Voracek scored reebok for the vans outlet third straight wholesale clothing game, but ralph lauren it was too louboutin shoes little, too late lions jerseys for pandora charms Philadelphia. The cheap true religion Flyers, christian louboutin shoes who had orlando magic jersey a lakers jerseys five-game oakley winning streak broken against Los Angeles on Monday, giuseppe shoes have swarovski online dropped two in nike shop a bengals jerseys row chargers jerseys for the first time since michael kors outlet an 0-3-1 skid toronto raptors jersey from Jan. 20-25. "We givenchy outlet didnt play fendi handbags our ralph lauren outlet online game. We didnt new balance outlet have energy. It was a philadelphia 76ers jerseys weird game," Flyers captain fred perry polos Claude cheap oakley sunglasses Giroux said. michael kors outlet "We babyliss pro have to burberry sale do true religion jeans outlet a better job rolex watches for sale of getting coach outlet ready. true religion outlet We barbour jackets outlet had some rolex watch big wins dre beats over good nike air force teams lately. browns jerseys Now we need tory burch some burberry outlet rest." McDonagh, hermes who pandora has been pandora canada on texans jerseys an offensive hot streak recently, long champ did air max schoenen it all ralph lauren outlet in portland trail blazers jersey scoring his 14th of the salomon schuhe season tommy hilfiger outlet stores to give the Rangers a 2-0 golden state warriors jersey lead. cowboys jerseys He stopped a huarache clearing oakley frogskins attempt nike air max 90 at the centre of adidas canada the blue rolex line, skated into hogan the montre homme right ray bans circle, woolrich outlet and snapped thomas sabo off a omega watches hard, ralph lauren outlet rising wrist fidget spinner outlet shot that phoenix suns jersey nestled into hollister online the houston rockets jerseys top right corner of the puma online net. fitflop outlet "We were new balance able to catch replica watches them throwing pucks, and our D and eveerybody cleveland cavaliers did a burberry good job keeping nike roshe pucks true religion jeans women alive," McDonagh ray-ban sunglasses said

chanyuan

2017-04-08 06:50:31 |
#1
---
chanyuan2017.04.08
mulberry handbags
fitflops
louis vuitton outlet
coach outlet online
cartier watches
oakley sunglasses sale
mcm outlet
coach outlet
coach outlet online
michael kors
louis vuitton handbags
coach outlet
beats by dr dre
true religion jeans
nike roshe run
cheap oakley sunglasses
cartier watches for women
tory burch outlet online
ray bans
polo ralph lauren
nike trainers
cheap jordans
hermes birkin
coach outlet
swarovski jewelry
michael kors handbags
michael kors canada
mizuno running shoes
beats by dr dre
louis vuitton
ray ban sunglasses uk
coach outlet
christian louboutin shoes
kate spade outlet
michael kors outlet
pandora jewellery
reebok outlet store
kobe shoes
oakley sunglasses wholesale
kobe 9
prada handbags
gucci handbags
pandora outlet
coach outlet online
ray-ban sunglasses
michael kors outlet
ralph lauren pas cher
jordan shoes
cheap oakley sunglasses
ray ban sunglasses
ray ban sunglasses
ferragamo shoes
michael kors outlet
mulberry bags
swarovski crystal
cheap nfl jerseys
michael kors outlet clearance
coach factory outlet
christian louboutin outlet
louis vuitton uk
michael kors outlet
oakley sunglasses
oakley sunglasses
fitflops sale clearance
valentino outlet
cheap jordans free shipping
adidas shoes
longchamp handbags
cheap oakley sunglasses
louis vuitton
michael kors uk
football shirts
nike foamposite
oakley sunglasses
nike roshe
adidas nmd
coach outlet
oakley sunglasses wholesale
cartier watches
coach outlet online
polo outlet
christian louboutin shoes
ralph lauren uk
louis vuitton
salomon outlet
louis vuitton handbags
beats by dre
louis vuitton
coach factory outlet
true religion jeans
oakley sunglasses wholesale
Basketball Shoes
ray ban sunglasses
cheap oakley sunglasses
mcm backpack
soccer jerseys
coach factory outlet
tory burch outlet online store
hermes belt
mulberry handbags sale
coach outlet
fitflops shoes
oakley sunglasses
michael kors wallets for women
oakley sunglasses
cheap oakley sunglasses
nike store
christian louboutin outlet
michael kors outlet clearance
coach factory outlet
fred perry polo shirts
coach outlet
cheap nba jerseys
oakley sunglasses wholesale
cheap oakley sunglasses
ralph lauren outlet
ferragamo shoes
mulberry handbags
chrome hearts outlet
cheap oakley sunglasses
michael kors factory outlet
michael kors outlet online
christian louboutin
rolex watches
gucci outlet
hollister
true religion outlet
ray bans
adidas uk
michael kors handbags outlet
coach outlet online coach factory outlet
borse louis vuitton
polo ralph lauren
louis vuitton outlet
nike roshe run
polo ralph lauren outlet
air jordan 4
louis vuitton outlet clearance
coach outlet online
hollister clothing
kobe bryant shoes
louis vuitton outlet online
hermes belts
air max 90
polo outlet
fitflops sale clearance
hollister sale
montblanc pens
air max 90
mac cosmetics sale
coach outlet
rolex watches
michael kors outlet clearance
coach outlet
cheap ray ban sunglasses
michael kors outlet stores
nike trainers
cheap ray ban sunglasses
louis vuitton outlet
louis vuitton uk
michael kors outlet online
tory burch outlet
versace sunglasses
coach factory outlet
christian louboutin ou
Ajouter un commentaire
Attention : tu n'es pas connecté.
Tu peux tout de même poster un commentaire en tant qu'invité mais il ne sera pas associé à ton compte et tu ne pourras donc pas profiter de tous les avantages.
Inscris-toi en 30 secondes
, c'est simple et rapide ;)
Commenter avec Facebook